Enjoy the arts, culture and history that Lanesboro, MN has to offer!
Lanesboro, otherwise known as the "heart of Bluff Country," is a popular destination for those who seek a vacation here in the Midwest. Here at Stone Mill Hotel & Suites, we have the privilege of meeting travelers from all over the world! What brings all these wonderful people to our small town here in Minnesota? Many come to bike the Root River Trail, or perhaps they come to kayak and tube along The Root River. Some tourists may come to shop, go fishing or relax by the campgrounds. Lanesboro has so much to offer, but one of the most special things about this community is that it is rooted in the Arts.
Thirty years ago, the Commonweal Theatre Company opened in Lanesboro as a program of the volunteer Lanesboro Arts Council. Lanesboro was a sleepy little town and in 1988, the Root River Bike Trail was just starting to gain reputation. During its first season, the Commonweal Theatre produced two plays with 10 artists over 11 weeks in the converted movie theater on the main street.
The Commonweal Theatre Company is located just right outside Stone Mill Suites' front doors at 208 Parkway Avenue N. This award-winning, professional theatre is in their 30th season! With an enticing mix of musicals, comedies, dramas and more, there's something for everyone at the Commonweal to enjoy. Visit commonwealtheatre.org or call 800-657-7025 for more information on upcoming performances. Stay at Stone Mill Hotel & Suites and you will receive $10 off per ticket! The Commonweal Theatre will be celebrating its 30th season this year. Join them on April 5th through April 8th for the grand opening celebration here in Lanesboro.
Located right next to the Commonweal is The St. Mane Theatre. The St. Mane Theatre is an intimate performing arts venue presenting a full schedule of concerts, film screenings, professional drama and community theatre productions. St. Mane Theatre is home to the "Over the Back Fence" variety show, taking place on the second Fridays of March-November. For more information, visit lanesboroarts.org or call 507-467-2446.
Lanesboro Community Theater presents a winter play, a summer musical and silent movies in the park in the autumn months. Their mission is to provide community-building opportunities in the performing arts while promoting educational experiences. This season you can enjoy "The Odd Couple" on February 23rd, February 24th, March 2nd, and March 3rd at 7:00pm. Show times on February 25th and March 4th will be at 2:00 pm. Look for them on Facebook or Lanesborocommunitytheater.blogspot.com to learn more about auditions and performances.
Lanesboro Arts is a non-profit, multi-disciplinary arts organization offering year-round programming. Through a diverse spectrum of community arts programming, Lanesboro Arts supports both emerging and established artists, revitalizes public spaces and builds a sense of community and civic pride among Lanesboro residents. Programming includes free youth education classes, fine arts galleries, internship programs, performance art and opportunities to participate in public art. Lanesboro Arts has brought innovative arts experiences to audiences for over 35 years, becoming a national model for empowering communities through the arts.  The Lanesboro Arts Gallery is located at 103 Parkway Avenue N. This year-round, non-profit art gallery presents accessible and diverse artworks in a rotating exhibition gallery. The Lanesboro Arts Exhibition Gallery features five exhibits each season in a variety of visual arts media. The works presented enrich both artist and community by initiating discussion and connection. Each exhibit aims to have a unique vision and original voice, quality craftmanship, and diverse accessibility to individuals from all walks of live. Exhibition gallery applications are accepted on an ongoing basis throughout the year and are scheduled two years in advance. For more information on Lanesboro Arts or any of their events, contact them at 507-467-2446.
The 18th  Bluff Country Studio Art Tour takes place April 27-29. Travel the scenic byways of the Bluff Country region to tour the studios of the area's finest artists and artisans. Visit bluffcountrystudioarttour.org for more information on this event.
Lanesboro Arts' Annual Fine Art Festival takes place on the Saturday of Father's Day weekend from 10am-5pm.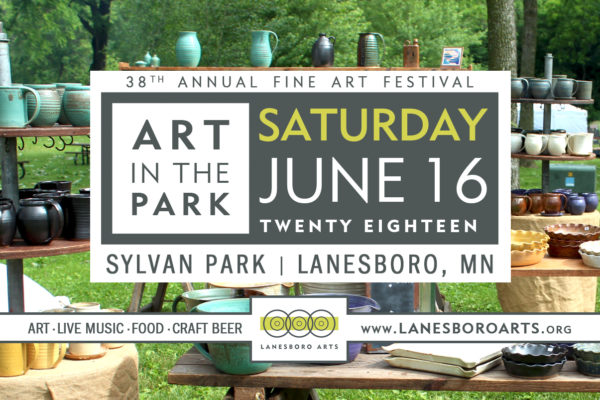 The 38th annual Art in the Park Fine Art Festival in Lanesboro, Minnesota on Saturday, June 16, 2018 will feature 90+ fine art booths, excellent live music, craft beer & community food vendors, and family art activities in the midst of mature shade trees in the beautiful setting of Sylvan Park. The event is held from 10 a.m. to 5 p.m. Please note that June 16th is the Saturday before Father's Day. Hosted by Lanesboro Arts,  Art in the Park is southern Minnesota's longest running fine art fair! Renowned for quality, variety and value, Art in the Park attracts thousands of regional patrons to Sylvan Park in Lanesboro each year. 
Visit Lanesboro's vibrant community of artists during a self-guided studio art tour. These tours are held on August 17-18, September 15-16, and October 5-6 from 10am- 5pm. Treat yourself to the unique experience of visiting these artist's studios. Visit lanesboroarearttrail.com to see more information on the artists, their studios or a slide show of their beautiful works and map to their location. You can also call 651-307-6373 for more information on the Lanesboro Area Art Trail!
Have you ever been to the Lanesboro Historical Museum? Experience the culture and values of Lanesboro's people. Enjoy three floors of history with new World War I and photography displays and an interactive phone booth. The museum is part of Lanesboro's voice to the world. Lanesboro Historical Museum is located at 105 Parkway Ave S and can be reached at 507-467-2177.
  Catch one of Lanesboro's Pop-up Plays on the last two weekends of September each year. Sponsered by the Lanesboro Historical Museum, History Alive! re-enacts true stories of Lanesboro with 30 performers in historic locations. Call 612-823-0776 for more information on these events.
Lanesboro is a wonderful community to visit because of its abundance of artists, culture and history. Not only is it a beautiful town with the Root River and the Lanesboro Dam, but it is a town rich in artistry and theater. Here is a list of places you may want to visit next time and familiarize yourself with the arts that Lanesboro has to offer!
The Black Crow Gallery is located at 110 Coffee Street E. This studio features decorative, functional and wearable art made by regional artists. You can find consigned clothing, collectibles and other household goods at The Black Crow as well. Call 563-419-0727 for more information.
Artist Cheryl Lamon is the owner of Cheryl's Fabric Garden located at 108 Coffee Street E. One of her greatest joys is working with bright, bold color. She blends colors to make things out of fabric and adds decorative stitching to create motion and depth. Each piece is made with creative artistic energy whether it is a quilt or wall hanging. Tour Stone Mill Hotel & Suites and you can see her beautiful work displayed in the suites and throughout the hotel. Cheryl can be reached at 507-467-4466.
Crown Trout Jewelers are experts in custom designing jewelry and work with the best that nature's gifts have to offer! Their work is comprised of gold, sterling silver, diamonds, opals and precious gemstones. Liz is an award winning designer who specializes in Scandinavian inspired bridal crowns as well as filigree work. Michael's specialties include stone cutting, inlay and custom design jewelry. Contact either Liz or Michael for more information on jewelry making classes! Located at 107 Parkway Ave N, they can be reached at 507-467-3078.
Peterson Creative Photography & Design specializes in professional high-quality portrait art for your home. Portrait sessions offered on location or in their country studio. Schedule an appointment for beautiful portraits in beautiful Lanesboro that you'll treasure for years to come. Peterson Creative Photography & Design can be contacted at 507-421-9906 and is located at 30601 Grouse Road.
Many hidden surprises also await as you explore this vibrant arts community, as public art is sprinkled throughout the town. We hope you enjoy the Pop-up history plays, concerts in the park, surprise sculptures and art crawls this season in Lanesboro. We are excited for spring and summer and hope you consider staying with us here at Stone Mill Hotel & Suites. Our historic inn is open year-round with 13 themed rooms and jacuzzi suites. Contact us at 507-467-8663 or visit www.stonemillsuites.com to check availability this upcoming season… rooms book rapidly during peak season!